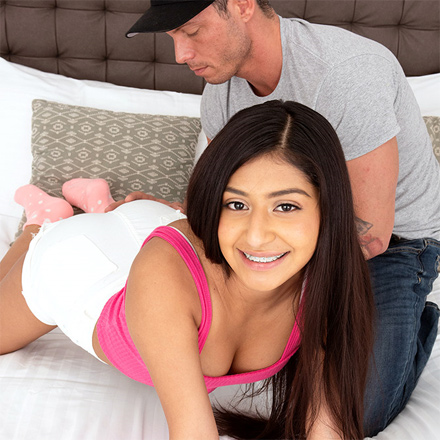 Binky Beas learned everything from her older sister, and that includes how to seduce her boyfriend! This barely legal teen wanted cock and knew exactly where to get it!
"It's normal for sisters to share everything. My sister is only two years older than me, so growing up we always shared our clothes and toys. Well, now that I'm 18, we can share guys, too. Her boyfriend is pretty cute. He came over looking for her when she wasn't home, and I tried on his cock for size. It fit in my pussy just right. My sister always had good taste. I can see why she keeps this guy around. He has a nice cock and his cum tastes good. She doesn't have to know that we're sharing her boyfriend though."
He fucks her good too, and this sexy young thing knows how to suck cock pretty good already too, really giving him some quality sucking before climbing on for a hot fuck. I wonder if the sisters will ever end up in a incestuous threeway?